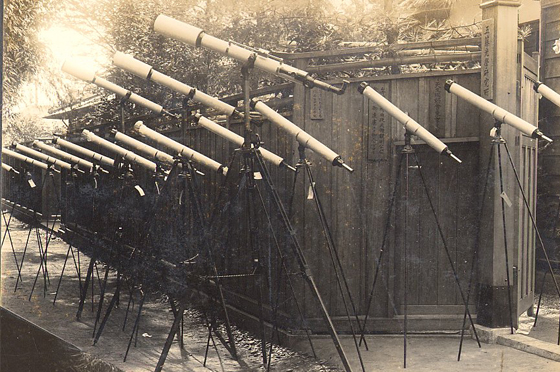 In 1921, a young Seizo Goto joined an optical company. While at that company, he learned the optics business, in part through interactions with German technicians who visited Japan to install their equipment in the company. When Seizo left to establish his own company in August, 1926 it would use his knowledge and skills to build small, 25mm diameter telescopes for amateur astronomers. Soon, Goto telescopes were renowned as a great value for quality optics. His business grew, and in 1933 he built a new factory in Setagaya, Tokyo.
Becoming the first Japanese planetarium manufacturer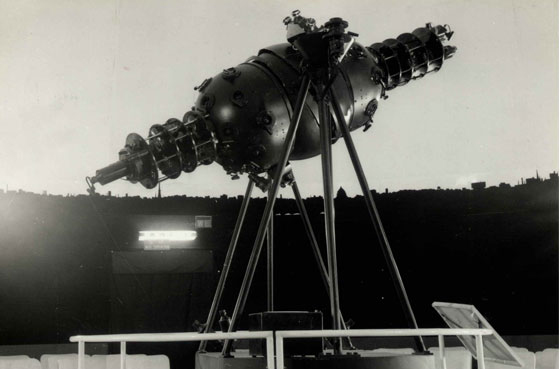 After supplying schools and individuals with telescopes for more than 20 years, Seizo recognized a possible new market for planetarium projectors for educational purposes. So in 1955, he set out on a world tour to learn as much as possible about planetariums. After studying the then-popular Zeiss planetariums and many other designs, he chose and refined the design of an "inverted dumbbell" similar to the unique Morrison Planetarium's "Academy Design" that he had seen in San Francisco. This would be the basic design for GOTO planetariums for decades to come. He opened an annex at his Setagaya factory specifically to create planetarium projectors that would have unique features and a precision equal to or superior to any other planetarium in the world.
Entering the global market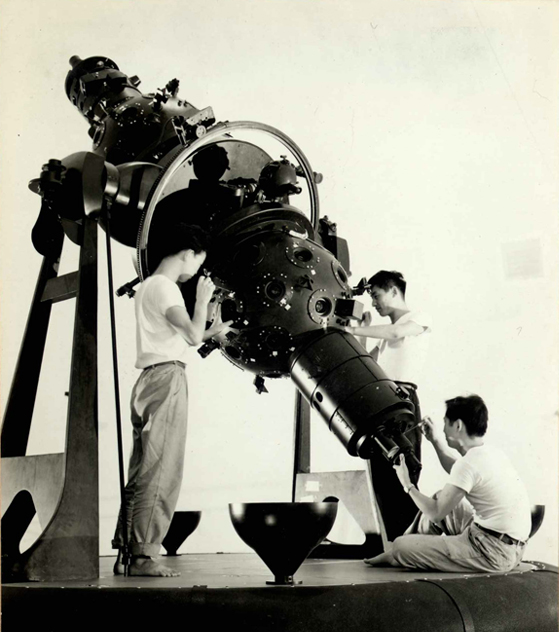 The first product in this new direction was a planetarium projector for medium-sized domes, called the Model M-1. It was Japan's first planetarium projector to use precision lens projection for both north and south hemisphere star fields and have complete sun, moon, and planet systems which exhibited annual motions.
It was exhibited at the Tokyo International Trade Fair in May 1959, and then in 1960 at the 4th All-American International Trade Fair sponsored by the city of New York. It was an instant sensation, generating 74 inquiries from all over the USA, including one from the eventual owner of that trade show demonstration; Bridgeport, Connecticut. Shortly thereafter, the St. Louis Science Center ordered a large Model L-1 projector which was GOTO's first big step into the world market as a planetarium manufacturer.
Growth at home and abroad

The 1960's witnessed growth in the Japanese economy in general, and the momentum at GOTO was also growing. Seizo moved the factory to a new building in the then-distant, small Tokyo suburb of Fuchu, where the factory remains today, surrounded by a thriving, green city. GOTO pushed its own technology into the future by introducing Japanese electronics into the planetarium business, both in manufacturing control and in show presentation control systems.
GOTO's dominance in domes across Japan led to the creation of the GOTO Astrorama system, a pano-hemispheric motion picture projection system for the MIDORI (Green) Pavilion at the Japan Expo., held in Osaka, Japan in 1970. Astrorama utilized five 70mm film projectors to show an ultra-wide angle image 12 times larger than cinema screens on the roof of a 30 meter wide dome that was 23 meters high. The combination of the massive, ultra-wide picture with the 11 channel ultraphonic sound using 515 speakers provided spectators an experience unheard of in the history of movies or Expos. And it also provided GOTO with inspiration about what could be done in the world's planetariums. A new generation of space theaters utilizing dynamic full dome movies together with other planetarium equipment was about to begin.
Ryuichiro Goto leads planetarium technology development
Seizo Goto's grandson, Ryuichiro Goto took the position of president in 1979. He continued Seizo's drive to advance technology in support of more and more realistic and exciting planetarium programming.
Building upon their Expo experience, GOTO INC installed the first tilted type planetarium in the Yokohama Children Science Center (now called the Hamagin Children's Space Science Center.) Using a truly innovative projector called the Model GSS-I, this planetarium blended a beautiful starry sky with dynamic, colorful images from other projectors to create a new type of planetarium that was not only educational, but also highly entertaining, and very popular. Tilted planetariums made immersive astronomy experiences accessible to millions.
In 1996, GOTO INC once again created a sensation when it showed VIRTUARIUM - the world's first color, real time computer-generated, fulldome video image on the dome. Suddenly, what had previously been possible only with the playback of a fisheye movie, was now possible with video, and could be altered and one could even "fly through the Universe" in real time.
Nobutaka Goto's era – Pursuit of the uncompromised real starry sky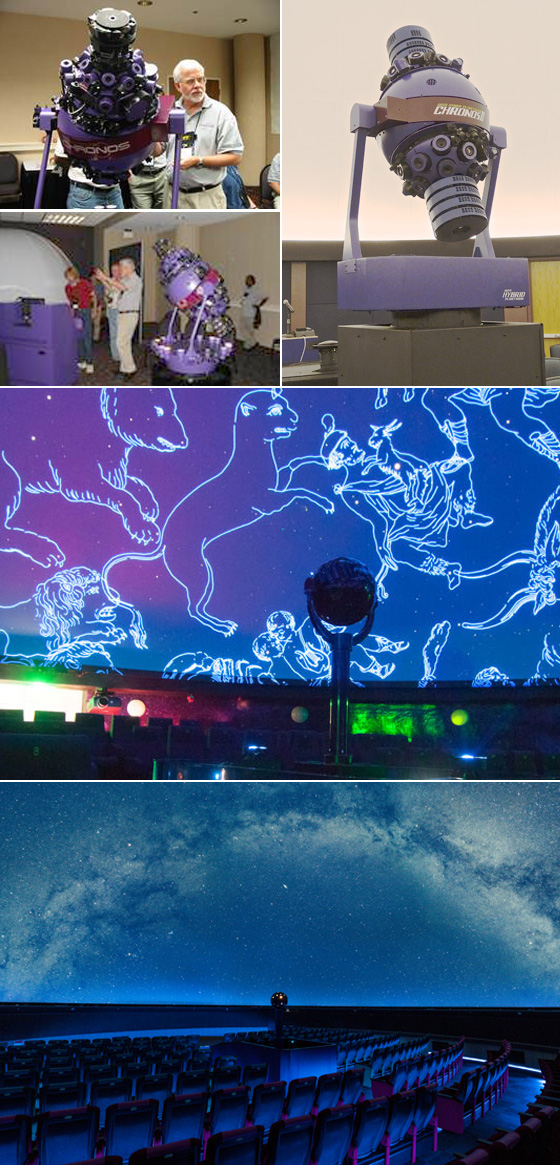 Ryuichiro's son Nobutaka assumed the presidency in 2003. A new focus was put on international growth, and American board of directors member Ken Miller was charged with helping to develop a series of products which would appeal to the international market. The first of those products was the new GOTO CHRONOS projector. Using input from more than 200 planetarium professionals from around the world, the CHRONOS literally started planetarium design all over again, from basic principles. The resulting machine fit the needs of educators extremely well, leading to many international installations.
Since 2004, alliances have also been made with Evans & Sutherland and RSA Cosmos companies to synchronize their fulldome systems with GOTO's new era opto-mechanical projectors under a GOTO software control, to create the world's first truly HYBRID planetariums. Today, GOTO HYBRID Planetariums® are the "gold-standard" in planetarium excellence.
These HYBRID planetariums make it even more clear that the role of the opto-mechanical projector continues to be essential in recreating the night sky. While fulldome video systems continue to improve in resolution and contrast, they are still greatly surpassed by the performance of a GOTO opto-mechanical projector. It is only with the combination and synchronization of both systems that the ultimate planetarium is created. Even the CHIRON II projector, which was acknowledged as being the world's most advance planetarium, with its 140,000,000 stars was designed to be the heart of a HYBRID planetarium.
In 90 years of GOTO history, through Seizo and Ryuichiro and now to Nobutaka, we continue to hold the uncompromising representation of a starry sky as our highest mission. All three presidents shared the common spirit of respect for technology. All followed our founder's hope that GOTO would be a company that always has a "research attitude." All maintain a corporate culture in which all employees strive to study and learn continuously. It is GOTO's history to always supply new technology in support of the appreciation of astronomy.
GOTO Glorious History
| | |
| --- | --- |
| 1926 | Company founded in Tokyo, Japan |
| 1959 | First planetarium export to Bridgeport, Connecticut, USA |
| 1970 | Astrorama all-sky compound movie camera and projector |
| 1984 | Model GSS projector's digitally controlled planets allow off-earth views |
| 1992 | Model GSS HELIOS – first 4-axis starball projector |
| 1996 | World's first color, real-time rendering fulldome video system: VIRTUARIUM |
| 2002 | Model CHRONOS developed directly from user input |
| 2004 | World's first HYBRID planetarium synchronizing opto-mechanical and color fulldome video systems |
| 2012 | CHIRON II HYBIRD in Tama Rokuto Science Center has been recognized as the most advanced planetarium in the world. |
| 2015 | CHIRON III is the first to show color temperature of all stars |
For more detailes;
History of GOTO INC