July 20, 2022 / News
NEW! LWL Museum of Natural History with Planetarium Begins a New Chapter in its History with the Orpheus Hybrid Planetarium System.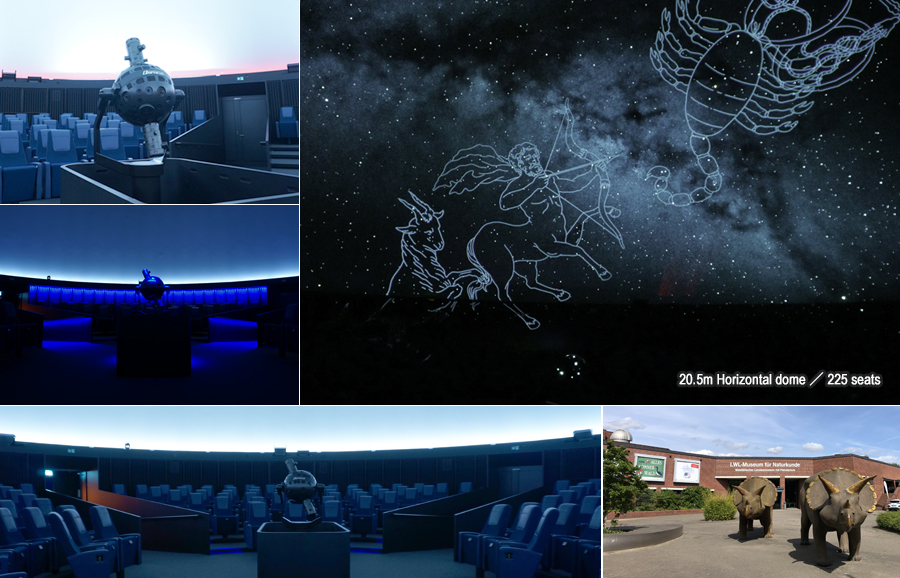 On July 1, 2022, the LWL Museum of Natural History with Planetarium, located in Munster, Nordrhein-Westfalen, Germany, reopened with the addition of the GOTO Orpheus hybrid planetarium projector beginning a new era in its long history. Orpheus was thoroughly evaluated for its accuracy, and for the realistic and beautiful starry sky produced by GOTO's technology. This is the first Orpheus hybrid delivered in Europe.
"The Orpheus star projector creates a high-quality starry sky and has an amazing affinity with digital systems," said Dr. Björn Voss, the Planetarium's director.
The opening ceremony brought together planetarium officials from all over Germany to celebrate the innovative addition to the museum's planetarium.
In this renewal, in order to respond to the customer's desire to "create a more realistic starry sky," we conducted comparative projection tests with old equipment multiple times locally and reflected the data obtained to the manufactured Orpheus. In addition, special measures such as changing the coloring of Orpheus according to the customer's request were taken.
The hybrid system, comprising GOTO's Orpheus and Digistar 7 from Evans & Sutherland, is used to project live presentations, scientific visualizations, and pre-produced planetarium programs. The planetarium reopened to the general public on July 2nd.
LWL Museum of Natural History with Planetarium

Dr. Bjorn Voss comment for Orpheus
Click here for a 360-degree dome image that can be freely operated with the mouse
※ Internet Explorer web browsers are not supported.
For more detailes;
ORPHEUS