We, GOTO INC has provided many planetariums into all over the world, since we started the planetarium sales on 1959.
Recently the planetarium show is not only starry guide, explanation but also it brings the audience to the virtual world by dynamic image and sound and it became the multi facility which can display the educational and entertainment elements.
In the virtual space, the audience can feel the virtual space as if they would be in real place, with the advanced technology. The combined program of state of art technology and the workmanship got in GOTO's long history makes the audience to be satisfied and happy and displayed in the variety facilities.
The ORPHEUS
The CHIRON Series
The CHRONOS Series
The PANDIA Series
For more installation examples
My town, Our Planetarium series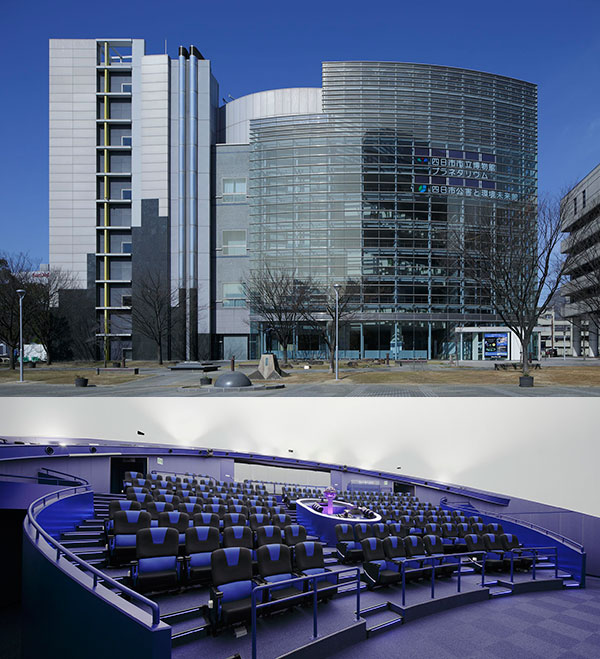 CHIRON 4〇1 HYBRID
Yokkaichi Municipal Museum・Planetarium
Yokkaichi Municipal Museum・Planetarium is located in Yokkaichi-city, Mie Prefecture, Japan and it is a Museum which introducing the Yokkaichi history, Background and Culture.
Planetarium is on 5th floor of building and the concept of 5th floor is a Galaxy port floating in Space, exhibition area is named Cosmic Gallery. and the whole of Planetarium facility is called "Cosmic Cruiser".
Further, The visitors are surrounded by 140,000,000 stars and they feel as if they could take a spacewalk.
CHIRON 4〇1 HYBRID SYSTEM and digital skyline system "Triple Hybrid Planetarium" provides such a immersive image.
Under the history background which Yokkaichi-city struggled with air pollution comes out from chemical complex, they recognize the significance of Global environment and Earth's beauty viewed from Space helps to consider the significance.
Dome diameter :18.5m (tilted dome)
Seat number : 144
Installation : in 2015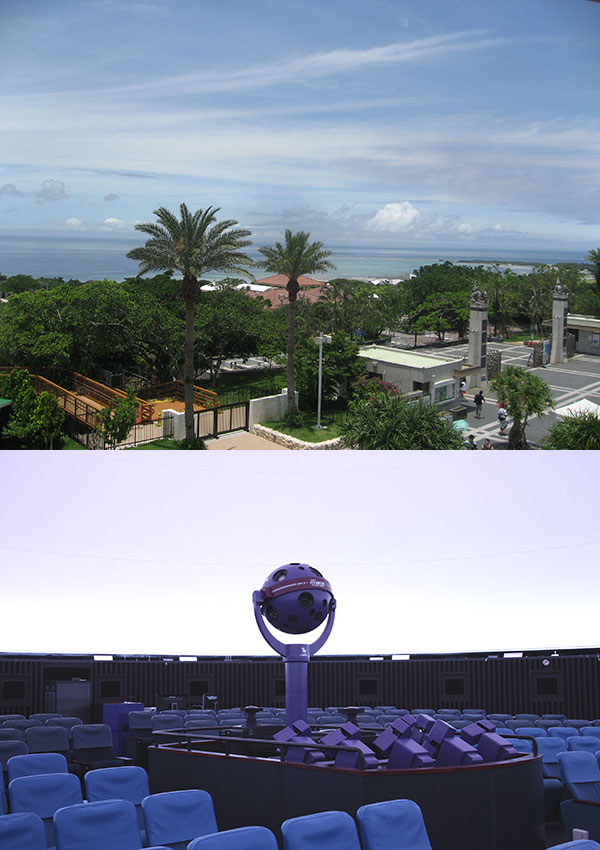 CHIRON HYBRID
Ocean Expo Park, Oceanic Culture Museum & Planetarium
Ocean Expo Park opened on Aug. 1976 in the site of the expo as memorial park of Ocean International Expo was held on 1975.
The park consists of three parts, History/Culture area, Ocean area, Flower, Green area, and it play the role of center of tourism spot of Okinawa Northern Island.
Especially, Okinawa Churaumi Aquarium has the largest water tank and famous popular spot during tourist. The Oceanic Culture Museum Planetarium replaced the model GOTO GM-15-T planetarium to CHIRON II HYBRID Planetarium which combines CHIRON PLANETARIUM and VIRTUARIUM II on 2011.
The planetarium plays role also as movie and provide the Okinawa's beautiful nature, night starry sky and wonderfulness to not only the local people always enjoying with beautiful starry sky but also the tour guests.
Dome diameter :18m
Seat number : 189
Installation : in 2011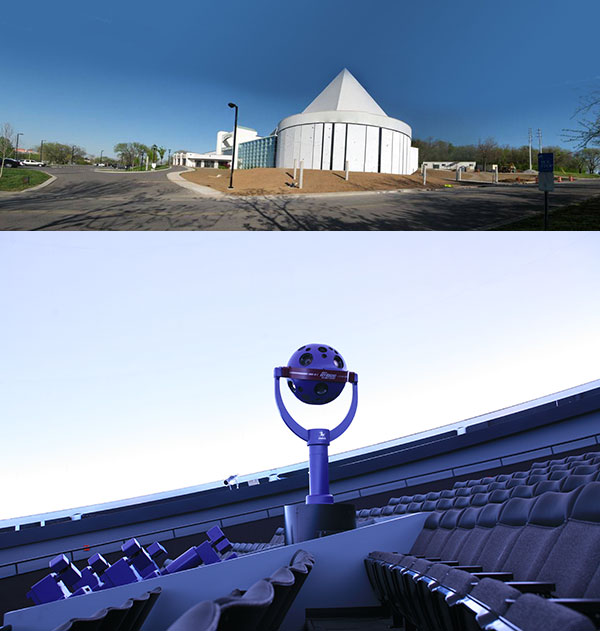 CHIRON HYBRID
USA : Sudekum Planetarium,/Adventure Science Center
June of 2008 marked the opening of the new Sudekum Planetarium at the Adventure Science Center in Nashville, Tennessee, USA. An earlier planetarium was totally replaced with a larger 63 foot (19.2 meter) tilted dome. Inside, America's first CHIRON HYBRID Planetarium system uses synchronized, state-of-the-art opto-mechanical and fulldome video to present shows to public and education audiences. The first 5 months attendance with the new system exceeded the planetarium's previous best year, and attendance continues to grow!
Dome diameter :19.2m (tilted type)
Seat number : 160
Installation : in 2008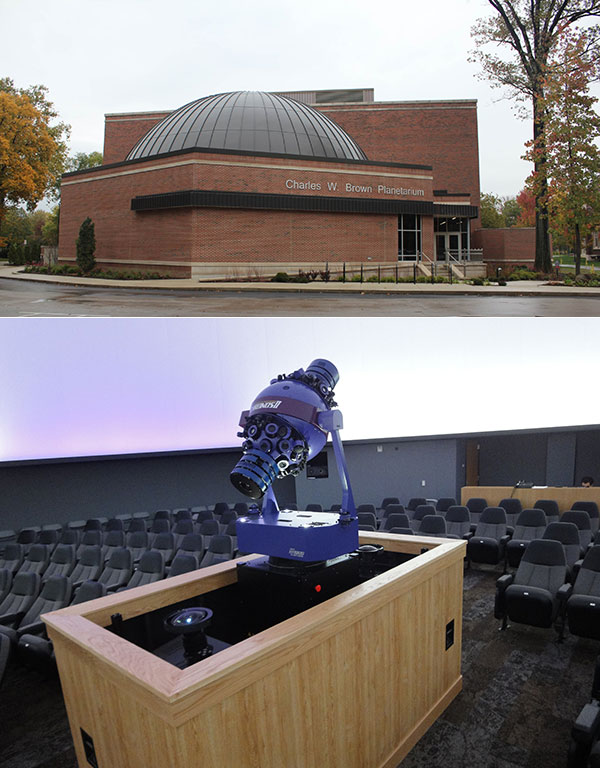 CHRONOS II HYBRID
BALL STATE UNIVERSITY
The very active astronomy education program at Ball State University had outgrown their 46 year-old, 9m planetarium. So when a new 16m planetarium was built in 2014, Prof. Ron Kaitchuck chose the system he knew would provide maximum flexibility in education programming for decades to come. CHRONOS II is synchronized with fulldome video by RSA Cosmos to give HYBRID teaching capabilities which reach over 20,000 people annually.
Dome diameter:16m
Number of seats:150
Installation:in 2014
http://cms.bsu.edu/academics/collegesanddepartments/physicsandastronomy/planetariumobservatory/planetarium
USER'S VOICE
Ball State University installed a GOTO Chronos/RSA Hybrid projector a bit more than a year ago. I am still being surprised by what this machine can do compared to our (older planetarium projector). Last Saturday night at the end of the pre-recorded portion of the public program I did my usual live sky-tonight presentation… I decided to show the audience how the moon moves compared to the background stars and advanced the date to January 19... to my surprise it stopped just short of the star Aldebaran… I told (the audience) about lunar occultations and that Aldebaran would get covered by the moon later that night. But all the time I was wondering if was really true. Was this alignment was just an accident? My 20+ years of experience with (our previous projector) taught me not to trust the precision of its lunar analogs.
I was usually happy if the moon was within the right constellation for any given date.?
When I got home I found (that the) GOTO/RSA projector had predicted both the day and time of the occultation specifically for our location in eastern Indiana. Maybe I shouldn't have been surprised given the capabilities of modern technology.
But the ability to predict and simulate future events like occultations, transits and eclipses greatly expands the educational potential of planetarium presentations.
Ron Kaitchuck, Director
The Charles W. Brown Planetarium
Ball State University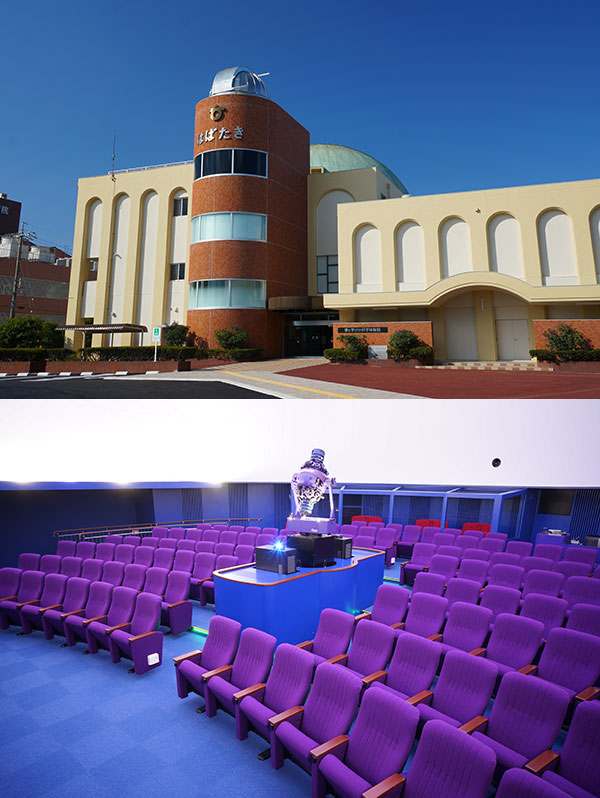 CHRONOS II HYBRID
HAND - ON SCIENCE MUSEUM, KARIYA CITY, AICHI, JAPAN
HAND-ON SCIENCE MUSEUM is located in Kariya city, Aichi, Japan and opened on May, 2015. The second Planetarium, the inherited CHRONOSII HYBRID PLANETARIUM from the first planetarium model GM plays also active role as the planetarium which can support Children's dream and Science. The beautiful , real natural starry sky and approx.. 100,000,000 micro stars are displayed through high bright LED source, The dynamic full digital image can get immersive impression to the audience as if they would fly through the Space..
The audience can see the vast Universe on the full dome screen.
Dome diameter : 15m
Number of seat : 140
Installation : in 2015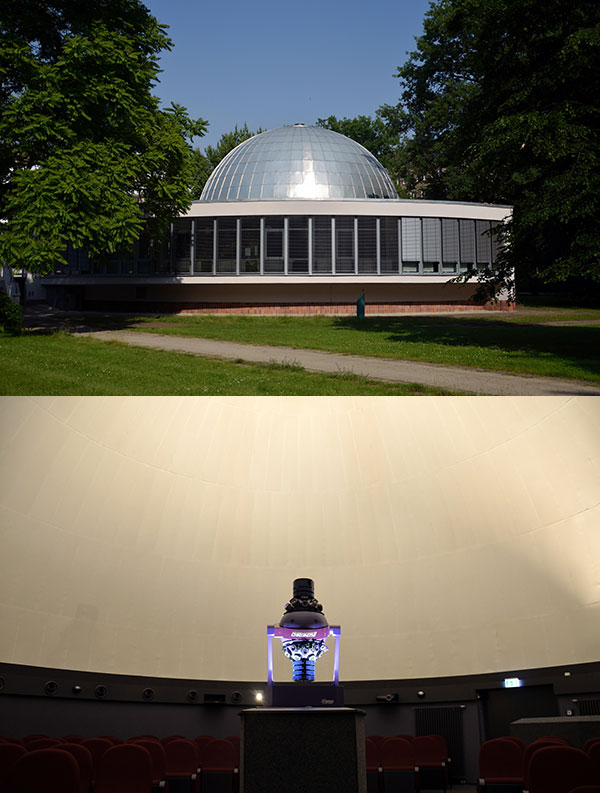 CHRONOS II HYBRID
Raumflugplanetarium Juri Gagarin Cottbus
Originally opened in 1974, the planetarium was totally renewed in 2013 using GOTO CHRONOS II and RSA Cosmos systems in Europe's first such GOTO HYBRID Planetarium. Still celebrating the Soviet space pioneer,
the planetarium now produces it's own HYBRID shows for audiences both young and old.
More German planetarians are now planning to follow this leader into the next era of HYBRID planetariums.
Dome diameter :12.5m
Number of seat: 95
Installation :in 2013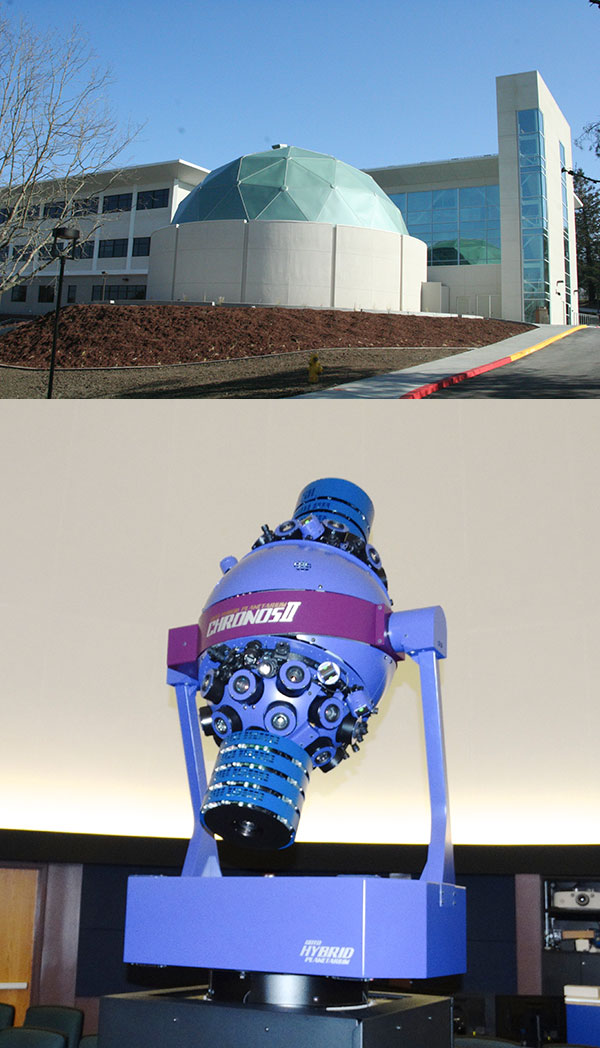 CHRONOS II HYBRID
CSM Planetarium/College of San Mateo
College of San Mateo is located at the northern corridor of Silicon Valley in the San Mateo hills that provides a panoramic view of San Francisco Bay. The planetarium Project Star Gaze San Mateo Planetarium is proud to continue their popular "Project Star Gaze" program for kids and teachers, in the planetarium. These shows give school children an exciting introduction to astronomy. Designed primarily for kindergarten through 5th graders, "Project Star Gaze" at College of San Mateo, offers children and their teachers experience with "real" science during free field trips to the planetarium. To support these activities, GOTO CHORNOS II HYBRID SYSTEM provide a real starry sky and immersive experience through various planetarium programs.
Dome diameter : 12.2m
Number of seat : 97
Installation : in 2016
http://collegeofsanmateo.edu/astronomy/planetarium.asp
USER'S VOICE
"I use my GOTO HYBRID in teaching my introductory astronomy class. Lots of 'oohs and aahs' are heard, when I bring down the lights, raise the CHRONOS, and students see Orion the Hunter. The colors of Betelgeuse and Rigel are readily discernible and students can easily see that Rigel is the hotter star. They also like looking at the Southern Cross and the Magellanic Clouds, objects not visible to them from San Mateo."
Darryl Stanford, College of San Mateo, San Mateo, California, USA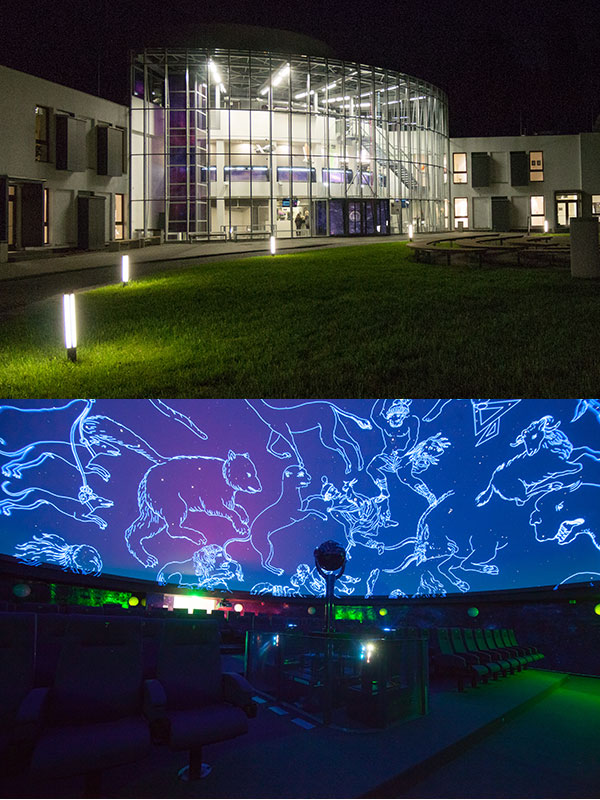 PANDIA HYBRID
OSTRAVA PLANETARIUM, CZECH
Ostrava, the third largest city in the Czech Republic, lies in the eastern part of the country, near the border with Poland. Once known primarily as a coal mining and heavy industry city, it now proudly offers new opportunities in the arts, culture, music, and education, including the VSB Technical University and its planetarium.
Opened in 1980, it is now named for the famous Czech astronomer Johann Palisa, who discovered more than 122 asteroids in the early 1900's. The entire planetarium building has recently undergone a total to-the-walls renovation and has re-emerged as a true jewel of astronomy and science education. Exhibits on astronomy, astronautics, physics, geology and seismology join a beautiful observatory which is also open to the public.
Dome diameter :13.2m
Installation : in 2014
http://www.planetariumostrava.cz/
USER'S VOICE
"The HYBRID planetarium allows us to satisfy the interest of many people, not only pupils and students from all kinds of schools but also the general public, parents, young children and even amateur and professional astronomers, who would appreciate an authentic image of the night sky."
Tomas Graf, scientific manager of the renovation project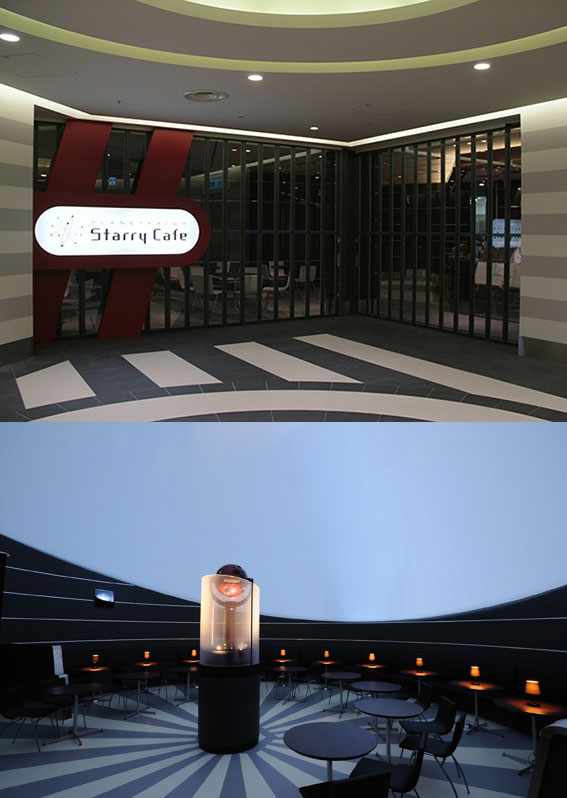 PANDIA (PANDORA) HYBRID
Haneda Airport International Passenger Terminal,
Planetarium Starry Cafe
Planetarium & Cafe, "Planetarium Starry Cafe" opened in TOKYO POP TOWN at the 5th floor of international terminal at Tokyo International Airport (Haneda airport). Show time is categorized into three time zones and various programs are displayed to fit the style of each time zone. During cafe time and bar time, passengers can enjoy foods and drinks watching scenery of destinations and movies of universe. Also, they can enjoy traditional planetarium programs with beautiful starry skies by PANDIA Hybrid in planetarium time.
Dome Diameter: 10m
Seats Number: 50
Installation in: 2011
http://www.haneda-airport.jp/inter/en/premises/tenant/5200100050750000/index.html
*PANDIA is called PANDORA in Japan.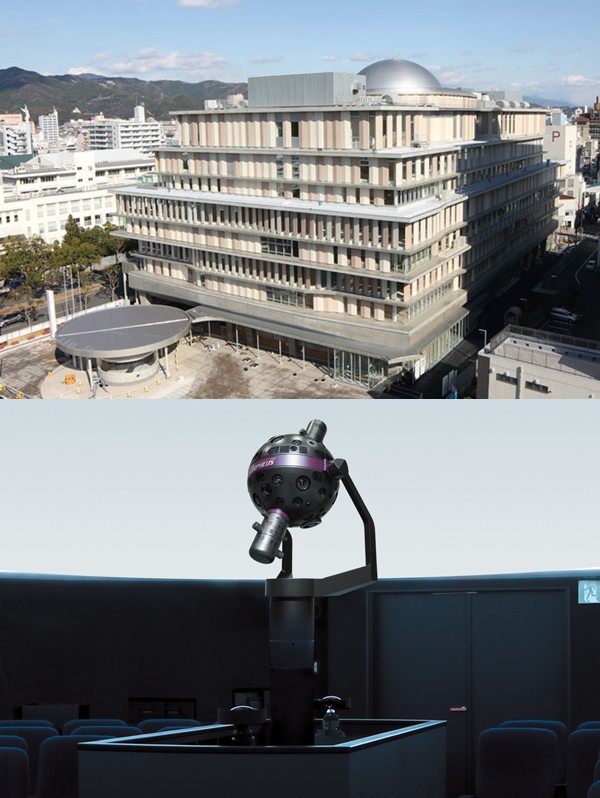 ORPHEUS HYBRID
Kochi MIRAI Science Center, Kochi Pref., Japan
Kochi Pref., Japan is a special place for us because our founder, Seizo Goto was born and raised there. When he was 19 years old, he looked at Comet Halley and decided to spread knowledge of astronomy in Japan and 16 years later, he founded GOTO INC.
Kochi MIRAI Science Center was built as a part of new library complex called "OTEPIA" which is a new 5-story building with a planetarium on the top floor.
The delivered system is ORPHEUS HYBRID Planetarium system which consists of GOTO ORPHEUS opto-mechanical planetarium projector and GOTO VIRTUARIUM X fulldome digital projection system with GOTO hybrid control console.
Dome diameter :12m
Number of seat: 82
Installation :in 2017
USER'S VOICE
ORPHEUS shows a natural and realistic starry sky. Thanks to the accurate star brightness and color presentation, you get a feeling of tracing stars in the real night sky. With binoculars you can see the myriad of stars in the Milky Way and imagine how Galileo was impressed. The compact body and quiet motions are also important functions for immersion in the starry sky world. Combined with the animated image presentation of the video system, it attracts as many people as the music of the ancient Greek musician Orpheus!
Yusuke Maeda
Kochi MIRAI Science Center, Kochi Pref., Japany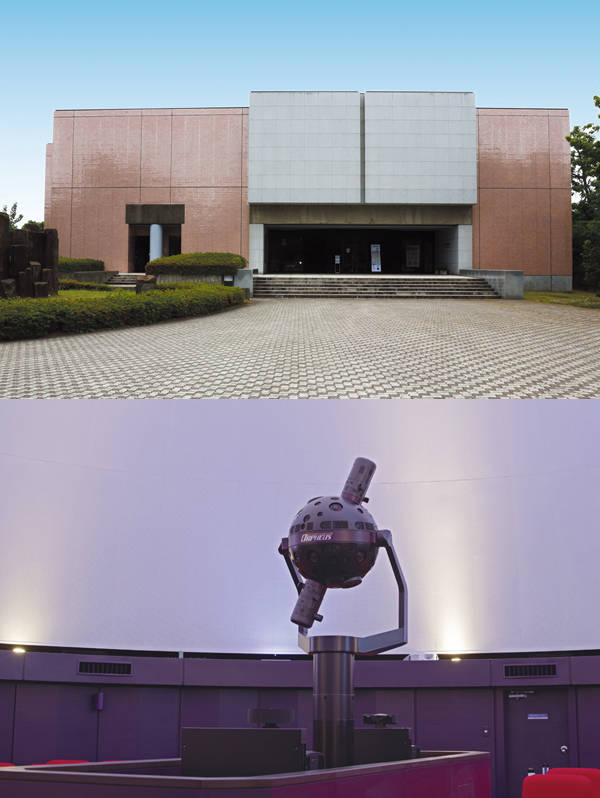 ORPHEUS HYBRID
Kashiwazaki City Museum, Niigata Pref., Japan
Kashiwazaki City Museum, Niigata Pref., Japan was newly renovated and reopened on March, 2018.
GOTO INC has provided ORPHEUS HYBRID Planetarium™ system. This highly innovative system was replaced from older Model GX-AT GOTO star projector.
The projector had been operated for decades but the Museum was excited to expand the ability to present programs and to move forward with the latest GOTO technology. We are very pleased whenever our previous customers choose to become repeat customers.
In addition to the projection system renewal, a new color scheme for the 12 meter theater and more comfortable seats with handicapped accessible seating were introduced.
Dome diameter :12m
Number of seat: 82
Installation :in 2018
http://www.city.kashiwazaki.lg.jp/kyoiku/bunka/hakubutsukan/
USER'S VOICE
The HYBRID planetarium of the new opto-mechanical projector ORPHEUS and the fulldome digital projection system VIRTUARIUM X has improved operability and reduced the burden on planetarium operators. This made it possible to do a smoothlive presentation. Also, the beautiful starry sky with the Milky Way composed of 8 million stars projected from the stylish and compact body impresses visitors.
Toshio Sato
Kashiwazaki City Museum, Niigata Pref., Japan