Starry Sky Extreme Realism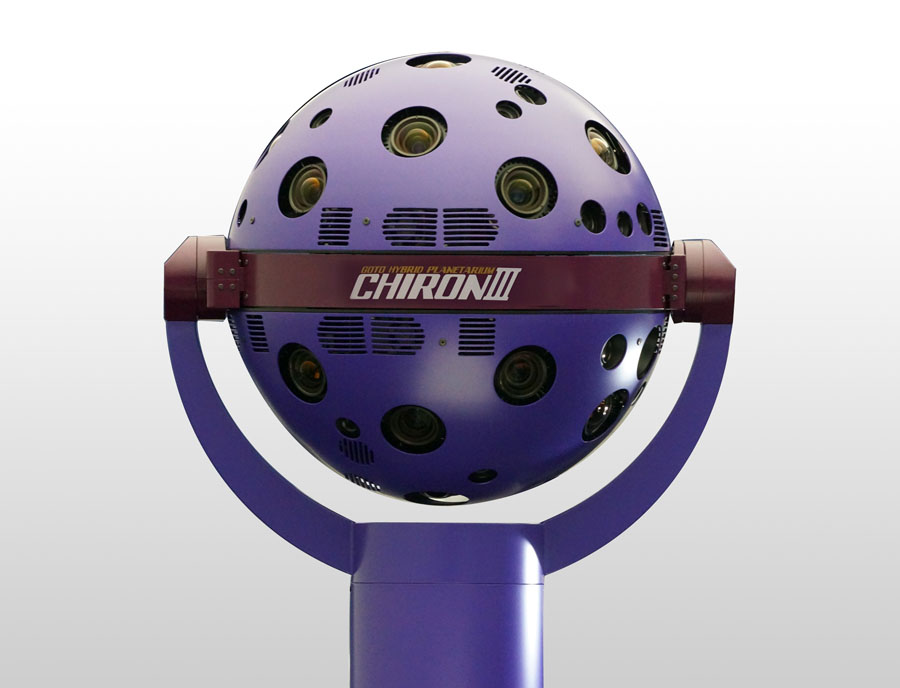 Model CHIRON III is the most powerful HYBRID planetarium which has been developed under our spirit of striving to reproduce ever more realistic and beautiful starry skies. The star ball is only 48 cm in diameter, yet its stars each have their intrinsic color temperature. So it is the first opto-mechanical planetarium (*1) to be able to accurately reproduce both of brightness and color.
CHIRON III star plates were developed to reproduce a beautiful and natural starry sky on the dome screen, based on scientific observations contributing to a database of billions of fixed stars. The Milky Way is reproduced with amazing depth.
Using binoculars, audiences can not only view approx. 100,000,000 stars and micro-stars, but they can also observe many emission and dark nebulae and star clusters, including every Messier object. (*2)
High-definition 100,000,000 stars reproducing the structure of the Milky Way
World's first planetarium showing all 9,500 stars with proper colors
Small sized star globe 48cm in diameter (former model was 70cm in diameter)
HYBRID compatible
100% high brightness, low cost LED light sources
Features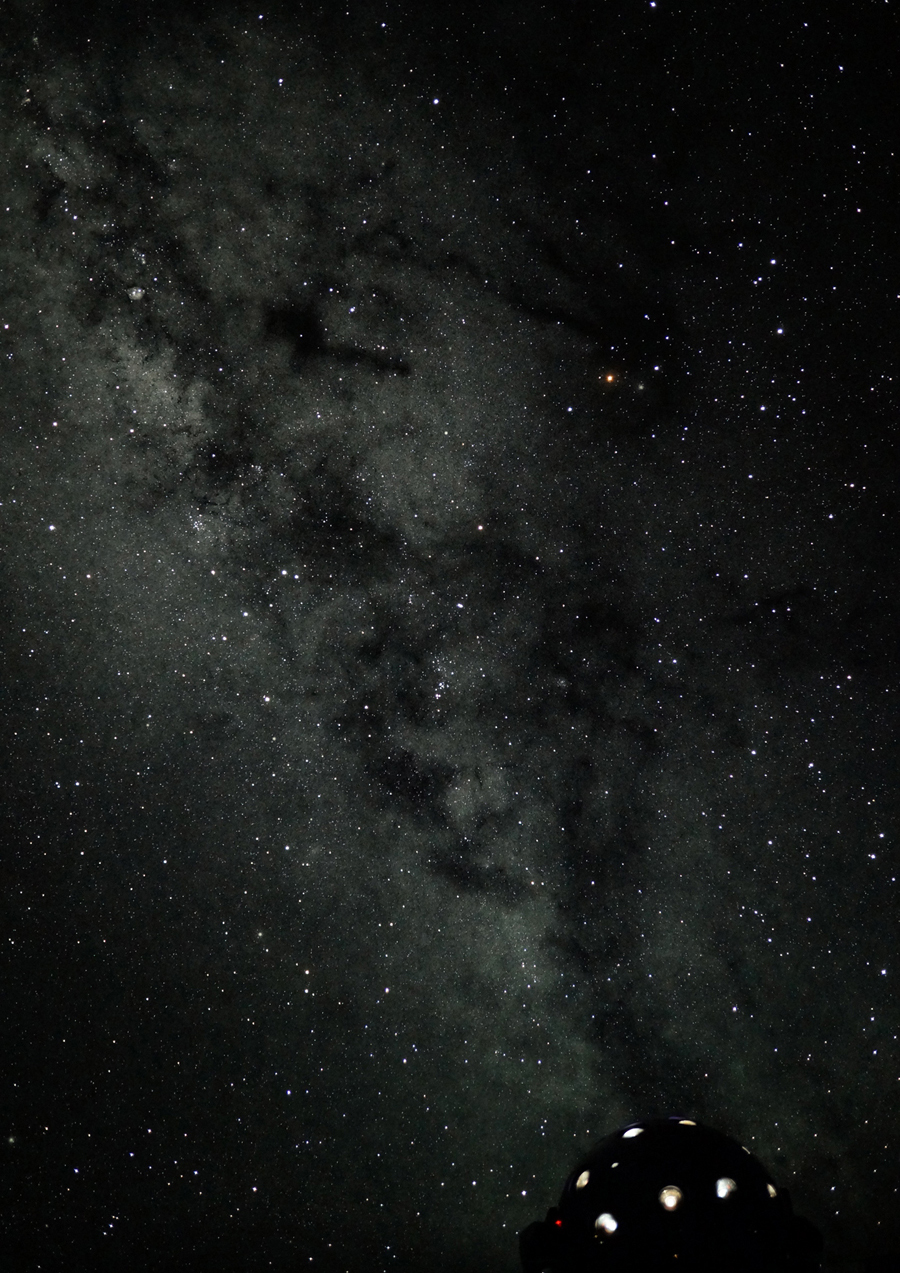 Adjustable dimmer functions can reproduce the starry sky you want, with different astronomical scintillation modes according to the various factors of season and weather
Brightness of fixed stars and Milky Way can be dimmed separately from 0% to 100%
Brightness of sun, moon and planets can be dimmed from 0% to 100%
9 variable stars (γCas, μCep, βPer, οCet, δCep, χCyg, L2Pup, Rdor, δSco) are reproduced
Over 300 Nebulae and Clusters are shown
100,000 levels of all stars scintillation can be shown
Noise level is 45dB max. when fixed stars on and 55dB max. when all axes drive at full speed
Specification
Dome diameter range : 16 ~30m (Horizontal Dome / Tilted Dome)
Standard seating: approx. 150 ~300 seats
Fixed Stars : 9,500stars down to mag. 6.55
Micro-stars of the Milky Way: approx. 100,000,000 stars down to mag.17.5
More Details
Starlit Skies Created by Pursuit of Realism
Birth of the CHIRON III HYBRID
GOTO INC is proud to introduce the Model CHIRON III - a totally new opto-mechanical projector designed for 16-30 meter diameter HYBRID planetariums. Carrying on in the tradition of the original CHIRON and CHIRON II machines, this projector has a beautiful sky, quick and accurate motions, and solid engineering designed to deliver many decades of trouble-free use.
But many things have changed with the new CHIRON III. First of all, it is much, much smaller than earlier large-dome projectors. Its starball is only 480mm (less than 19 inches) in diameter! The new greatly reduced size makes a much smaller visual profile at the center of the room, and the CHIRON III may also be mounted on a telescoping lift so that little or no blocked sight lines will exist for anyone in the theater!
Yet the high-efficiency LED light sources illuminate the stars brighter, smaller, and more realistically than ever before. Scintillation of all stars in the sky adds to that realism, as do 9 variable stars and individual switching of 27 bright stars to avoid bright star images from moving through fulldome images. Of course GOTO's famous digital shutters allow control of horizon cutoffs at any angle and to any degree, thereby producing star-free panoramas when desired, and precise horizon cutoffs in tilted as well as horizontal domes.
Perhaps the most important innovation which GOTO INC introduces with the CHIRON III is the planetarium industry's first and only full-color starfield! Rather than only coloring a few dozen stars, as other planetarium projectors do, the CHIRON III offers the option of having every one of the 9,500 stars exhibit realistic color temperatures. From starting at blues and stepping through whites, yellows, oranges, and down to red, many subtle gradations of color closely match the actual colors of stars.
Because the human eye generally doesn't see color below certain brightness levels, the effect is very realistic in normal use, but this feature, combined with the CHIRON III's high brightness, allows the operator to brighten the sky to reveal more of the sky's true colors. Or, the operator can choose to illuminate only the red stars, or only the blue, yellow, orange, or white stars for educational purposes. Adding color to a pure, pristine opto-mechanical sky had never been done before, until the CHIRON III.
CHIRON III is one of the new designed-for-HYBRID opto-mechanical projectors. That means it is part of a complete GOTO HYBRID Planetarium®, the world's first and best full HYBRID. All GOTO HYBRIDS feature full synchronization of moving stars and background fulldome animations, and include an ergonomically-designed, manual control console which makes live programming not only beautiful, colorful, and dynamic, but also easy for the operator to learn and control in real time.
Many other new HYBRID features also await CHIRON III users, such as a totally new Plus-V projector which brings even more realism to sunsets, eclipses, comets, meteors, spacecraft, and more.
Please take a more comprehensive look at the CHIRON III and its specifications by clicking on the .pdf file below. Then please contact GOTO to learn more about how the CHIRON III can fit into your planetarium planning.
Our offer

Designed for educational and entertainment use, CHIRON III is able to show not only the perfect night sky as seen from earth, but can also reproduce the cosmic experience as seen by an astronaut in outer space.
The CHIRON Series
The CHIRON series of opto-mechanical planetarium projectors is a next generation type projector developed specifically for HYBRID use. This series continues from CHIRON and CHIRON II to the current CHIRON III.
The star ball of CHIRON was 70cm in diameter, used gas discharge bulbs for fixed stars and Milky Way and clusters were reproduced by fixed star lamps.
10 units of this model were delivered as HYBRID PLANETARIUM to Shonandai Culture Center Children's Museum, Japan, Setagaya Educational Center, Japan, Sudekum Planetarium,USA and so on.
CHIRON II was the world's first opt-mechanical planetarium which used high brightness LEDs, thereby obtaining extremely long lamp life and high energy efficiency. Even more beautiful star fields were enabled by the brighter LED light source and smaller star images
Origins of Chiron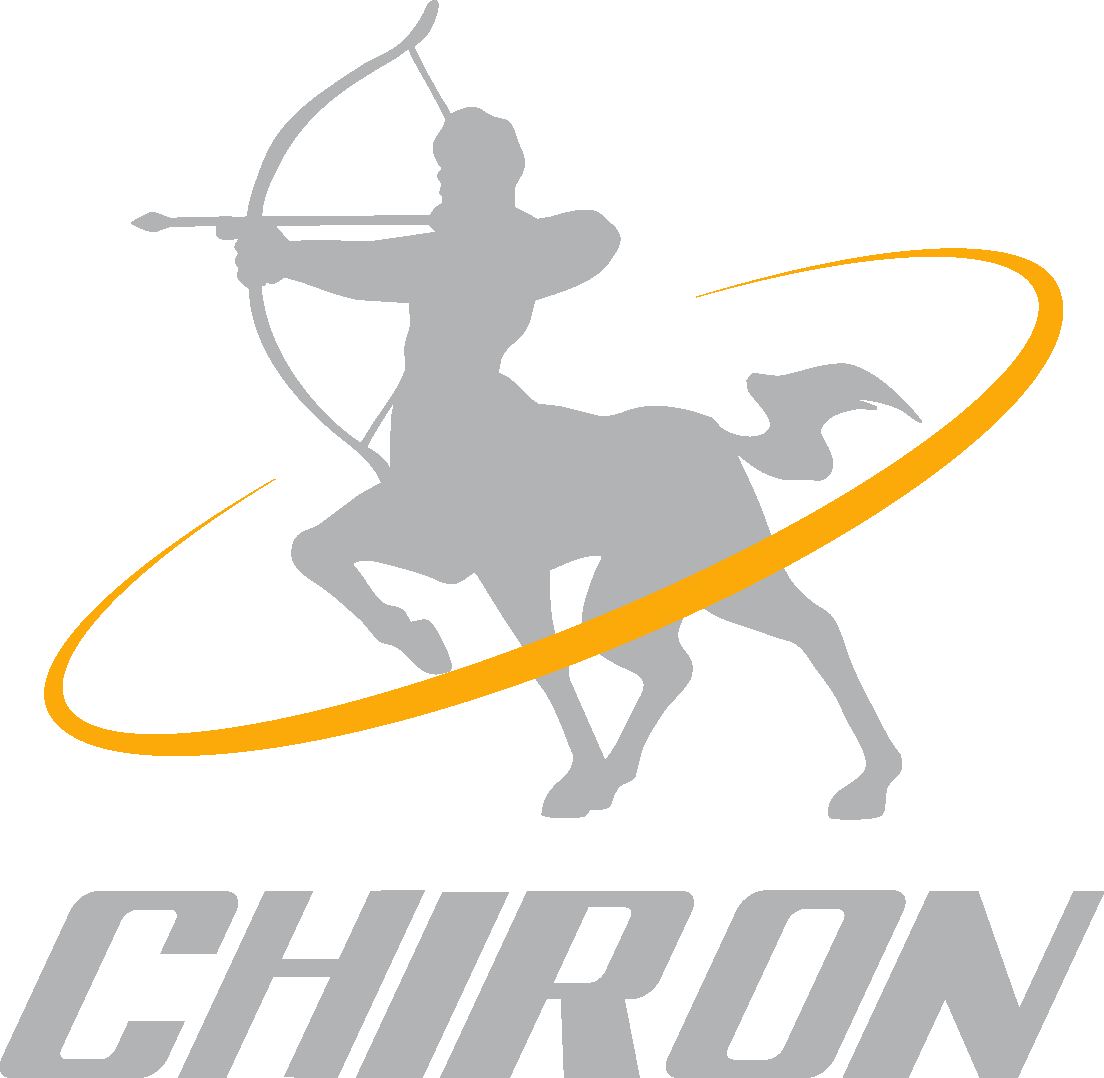 (Etymology)CHIRON, the son of CHRONOS, was the wise half-man half-horse creature of the Centaur tribe in Greek mythology. As an exception to the other wild and violent Centaurs, Chiron studied music, medicine and prophesy from the god Apollo, and hunting skills under the god Artemis.
Despite being a hybrid (half-man half-horse), Chiron learned much from the gods and passed his knowledge on to heroes in mythology. GOTO names this new product CHIRON with a wish that your visitors will also learn a lot while at your planetarium. It is pronounced "Kee-ron" in Latin, or "Kai-ron" in American English.
Installation examples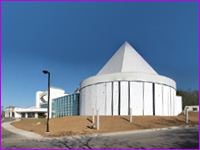 Sudekum Planetarium, Adventure Science Center
June of 2008 marked the opening of the new Sudekum Planetarium at the Adventure Science Center in Nashville, Tennessee, USA. An earlier planetarium was totally replaced with a larger 63 foot (19.2 meter) tilted dome. Inside, America's first CHIRON HYBRID Planetarium system uses synchronized, state-of-the-art opto-mechanical and fulldome video to present shows to public and education audiences. The first 5 months attendance with the new system exceeded the planetarium's previous best year, and attendance continues to grow!