40,000,000 stars for Small Dome Screens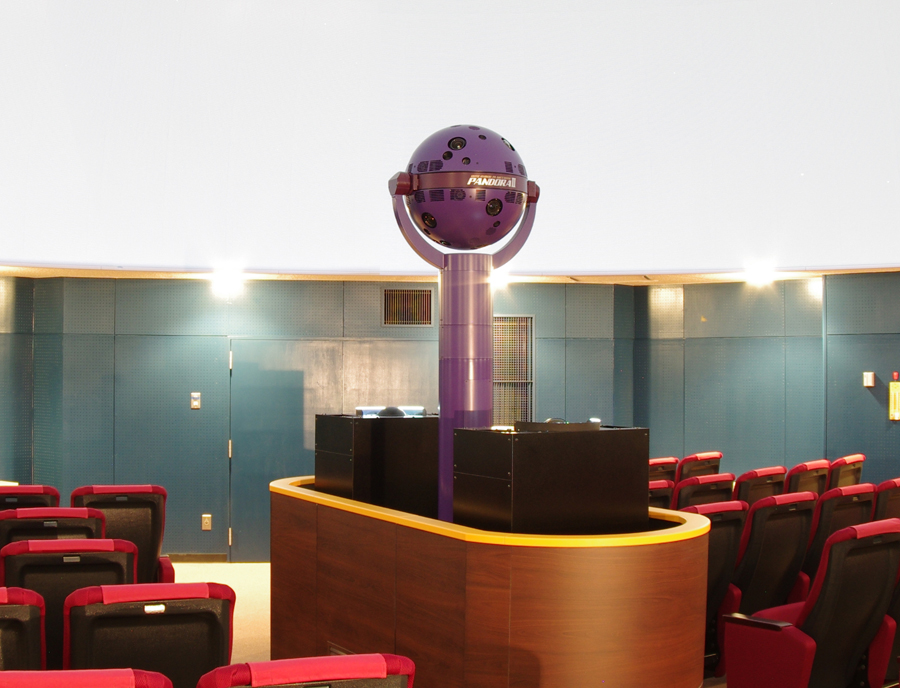 PANDIA II projects more than 40,000,000 stars in their actual observed locations.
Careful attention to brightness allows realistic views with the naked eye and even with binoculars. Over 300 nebulae and star clusters can be spotted by sharp-eyed observers.
40,000,000 stars shown
HYBRID control enabled
100% High brightness LED illumination for low cost and maintenance
Features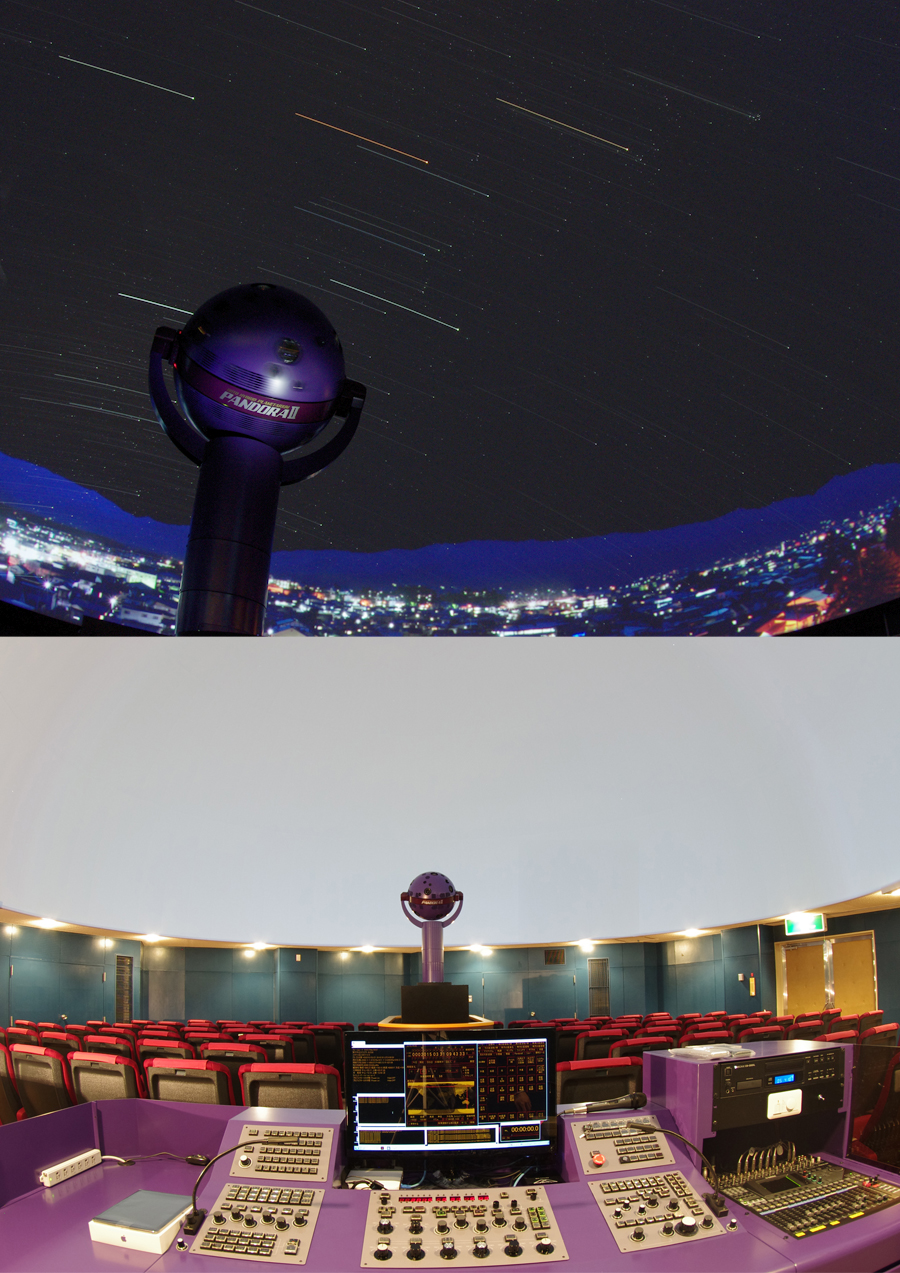 Like GOTO INC's projectors designed for the largest domes, the PANDIA II utilizes digital horizon cut-off shutters. This means the cut-off can be horizontal or tilted to match the orientation of the dome. A "full open" mode is also possible, flooding the entire theater with stars!
As one the latest "HYBRID Age" projectors, PANDIA II is fully compatible with synchronized fulldome video. The entire system can then be controlled by either the PANDIA II's own manual control console, or the keyboard and mouse controls of the fulldome system.
Digital shutters with multiple functions
An integral elevator can be built into the support column to lower the PANDIA II for more unobstructed sight lines and shadowless projection by any auxiliary projectors. (option)
Specification

Dome diameter range : 8-12 meter (standard)
(Horizontal or Tilted Dome / OPTION : up to 16m)
Standard seating: approx. 60-140 seats
Number of Fixed Stars : 9,500 down to mag. 6.55
(The brightness of stars can be controlled from 0 to 100%)
Milky Way: approx.40,000,000 stars down to including mag.17.5
More Details
PANDIA II, a small star ball with high-intensity LED light source
GOTO INC is proud to unveil the PANDIA II opto-mechanical planetarium projector for 8-12 meter diameter HYBRID planetariums. This new version of the popular PANDIA brings some exciting new features, while keeping the extremely small size and affordable price of the original PANDIA.
Never before has an opto-mechanical projector packed so many features into a 480mm diameter starball! The PANDIA II is fast, accurate, and has an absolutely beautiful night sky, with 9,500 tiny, sharp, bright stars, a Milky Way made of 40-million micro-stars, and more than 200 deep-sky objects. If all you have for reference is old-fashioned opto-mechanical projectors, you'll have to see it to understand just how spectacular it is!
Of course the PANDIA II is made to be hybridized by combining it with a state-of-the-art fulldome video system, and controlling it with the famous GOTO HYBRID Planetarium® control console. Using the PANDIA II HYBRID is a snap. It is superbly simple to learn and to use. Each knob, slider, and push button results in instant response by the system, as operating educators call up virtually any combination of opto-mechanical and fulldome effects - all totally and effortlessly synchronized. Excellent for live programming, the HYBRID interface eliminates the distractions of glaring computer screens, mice, and keyboards. Instead, the operator is able to use the system as a natural, intuitive extension of themselves.
For the first time in small domes, the PANDIA II also offers digital horizon cutoff shutters. GOTO developed these shutters for much larger machines some years ago, but only now have been able to miniaturize them to fit on the PANDIA II. Now, with these computer controlled, motorized shutters, the PANDIA II can be used in horizontal or tilted domes, and can even perform feats such as raising the horizon during a program so that no stars show through a panorama scene!
Finally, the PANDIA II is now available with an optional telescoping lift on the support shaft. This means that the machine can be lowered below cove-mounted video projectors, or can simply be lowered during fulldome movies to provide even more unblocked sight-lines. All in all, the PANDIA II is something very special! Please click on the button below to download more information about this extraordinary projector!
Click for Introducing the PANDIA II HYBRID
Suggested Use

PANDIA II is recommended wherever a modern HYBRID planetarium is desired in an 8-12 meter diameter dome(standard). From its extremely small footprint, it can show stars with much more realism than any mere fulldome video system can begin to do.
The PANDIA Series
The PANDIA model was developed by GOTO INC to bring high performance into small domes. The PANDIA II carries many of the same advanced functions as our model CHIRON III, which is built for the largest of domes – but at a much smaller price!
Installation examples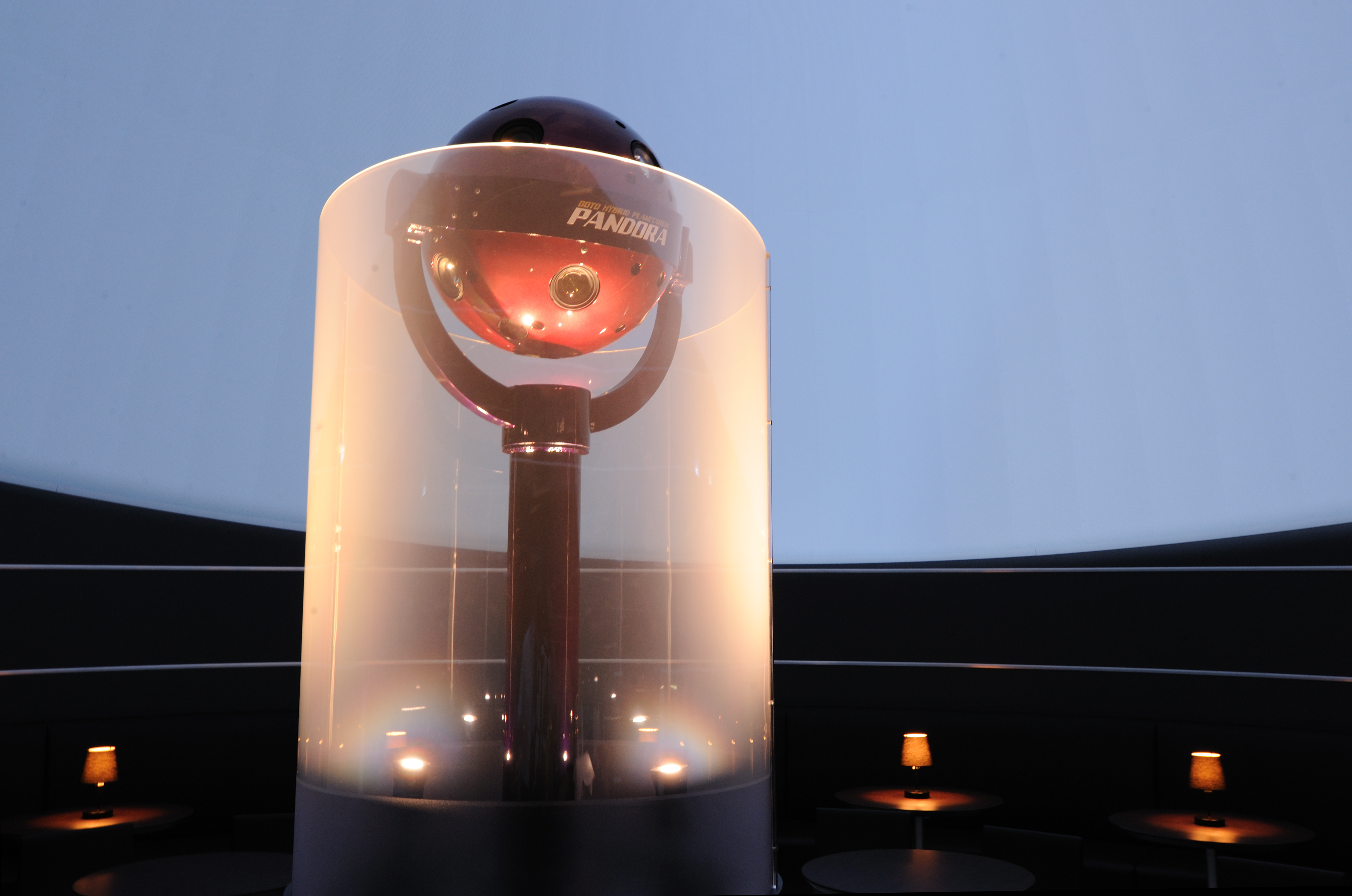 International terminal at Tokyo International Airport
Planetarium & Cafe, "Planetarium Starry Cafe" opened in TOKYO POP TOWN at the 5th floor of international terminal at Tokyo International Airport (Haneda airport). Show time is categorized into three time zones and various programs are displayed to fit the style of each time zone. During cafe time and bar time, passengers can enjoy foods and drinks watching scenery of destinations and movies of universe. Also, they can enjoy traditional planetarium programs with beautiful starry skies by PANDIA Hybrid in planetarium time.
*"Planetarium Starry Cafe is run by Tokyo International Air Terminal Corporation.
*PANDIA is called PANDORA in Japan.