September 07, 2016 / News
KAGAYA's AURORA win award at fulldome festival !
GOTO INC has been distributing shows around the world over the years, in addition to our well-known hardware sales. And now, KAGAYA's AURORA produced by Kagaya Studio, Tokyo, Japan, was awarded the Best Photography award at the 2016 Fiske Fulldome Film Festival.
It's our great pleasure to get this kind of prestigious award as distributor.
Over the years, we have been a front-runner in show production and sales; producing our own feature length shows, supplying show materials and short clips for our customer's needs, and distributing world-class planetarium shows made by other international producers.
We take this opportunity to expand our efforts in producing and delivering better shows.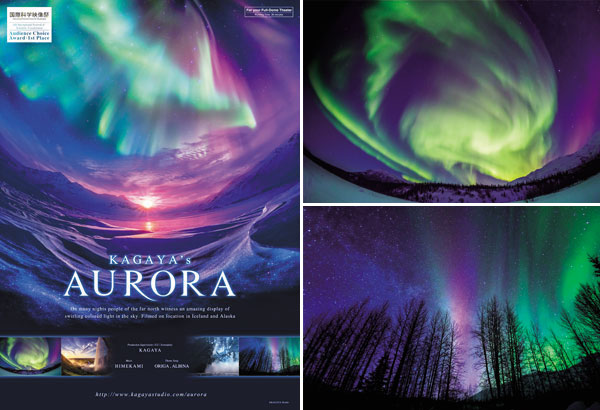 About "KAGAYA's AURORA"
Curtain waves, light swirls, and then breaks up.
Different aurora captured by time-lapse are recreated in dome.
Computer animations, explain the mechanism of how an aurora is generated.
Glaciers photographed from high above, images of the arctic and rows on row of mountains.
This is a production that lets you fully enjoy the attractiveness of aurora along with the nature of Ireland and Alaska.
For any inquiries and questions regarding KAGAYA's AURORA and our Contents Line-up,