April 21, 2022 / News
NEW! PANDIA II Hybrid Planetarium at Planétarium de Haute-Provence
On April 9, 2022 the Planetarium opened in the heart of the Center of Astronomy of Saint-Michel l'Observatoire on a plateau that offers a clear 360° view of the sky of Haute-Provence. Far from the major French metropolises, this unspoilt natural space enjoys three hundred clear nights a year and thus offers exceptional conditions for observation with the naked eye or instruments.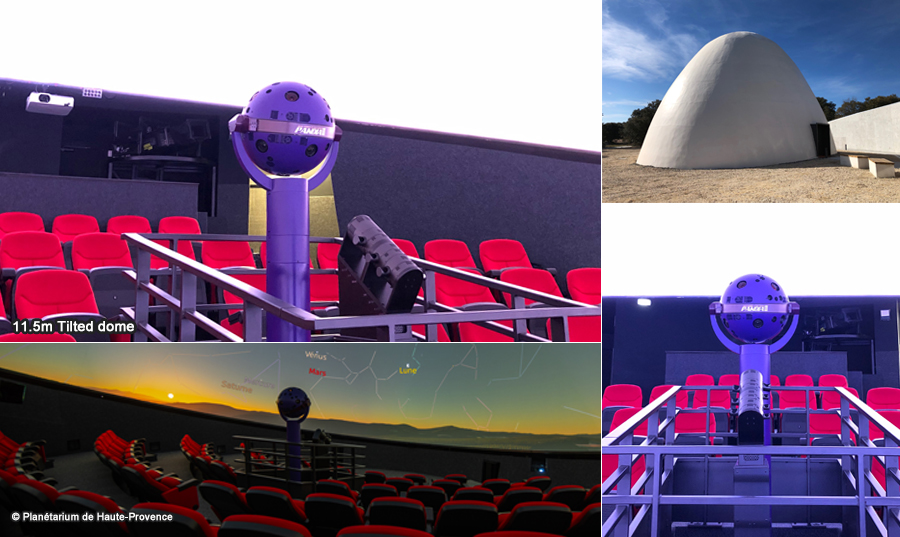 A new 11m diameter dome has been equipped with the 8K hybrid planetarium system which consists of PANDIA II opto-mechanical planetarium projector, 6 x 4K GTZ280 Sony projectors, RSA SkyExplorer software and an Astro-Tec dome screen.
The Center of Astronomy of Saint-Michel l'Observatoire has been a reference in the field of scientific mediation. Its park of high-tech instruments gives it all its scientific legitimacy and reinforces its educational dimension. The various telescopes allow the observation of the night sky;
Through the observation of the sky and the dissemination of scientific knowledge, the Center of Astronomy has the mission and the ambition to support the public in their understanding of the world around them:
• observe, take a step back, question, try a rational answer, test it and then come back to the observation with a new look,
• understand the physical phenomena behind the light emitted by the stars.
The Center of Astronomy is also for educational purposes. It hosts students of elementary schools for brief stays (1–2 weeks) during the year and organizes theme nights of combined sky observations and expositions/debates on different themes.
The hybrid planetarium added new breathtaking experiences. The planetarium team said,
"The PANDIA II projector offers exceptional sky quality with its 40,000,000 million stars. It allows the ultra realistic reproduction of the starry sky with definition and brightness as under the natural celestial vault. Combined with digital projection, we offer our audience a breathtaking view of the night sky. Finally, the sunrise projected by the starball accompanied by a captivating music amazes visitors and leaves them thousands of stars in their eyes!"